Best Ways to Download Harry Potter Audiobooks on Different Channels
Harry Potter is a series of seven fantasy novels written by British writer J. K. Rowling from 1997 to 2007. The series focuses on the lives and adventures of Harry Potter and his friends Ron Weasley and Hermione Granger at Hogwarts School of Witchcraft and Wizardry, as well as their search for Horcruxes and the destruction of Voldemort in the Second Great War of the Wizarding World. The Harry Potter book series has been translated into 73 languages and sold more than 500 million copies, and it is the world's best-selling film series of all time. In 2021, a game called "Harry Potter's Magic Awakening" was released, According to TapTap, not long after its launch, it had already reached 759,000 downloads and 1,026,000 followers. It can be seen that even after so many years, Harry Potter's popularity is still unabated.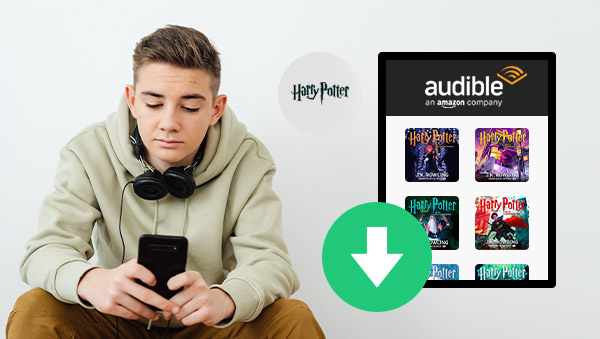 Not just in the areas of novels, movies and games, but with the development of digital media, more and more people are willing to listen to Harry Potter audiobooks on their mobile devices. However, there may still be some people who do not know where to listen to Harry Potter audiobooks and how to download them. Next, this article will teach you in detail where you can get Harry Potter audiobooks and how to download them.
---
Here are mainly two channels for listening to audiobooks. The first is the official version and requires payment. Currently, there are many websites that provide audiobook services on the market. As Harry Potter is such a best-selling novel, these websites definitely will provide corresponding audiobooks. Audible is arguably the largest platform out there. To listen to audiobooks on Audible, you need a subscription, and there are two main subscription models. Audible Plus costs $7.95 per month and gives you unlimited access to the Plus catalog. Audible Premium Plus is more expensive at $14.95 per month and offers all the services in Audible Plus, and plus 1 credit per month for audiobook purchases. Perhaps because Harry Potter is such a bestseller, you still need to buy the book before you can listen to it even after subscribing to Audible. You can choose to buy it with one credit or buy it separately at the member price.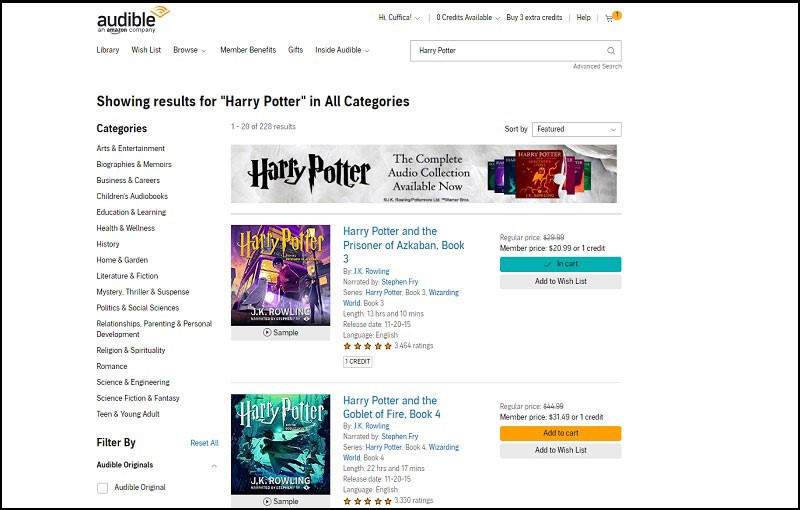 There is actually a free method on Audible, but this is only available to new subscribers. Audible has a 30-day free trial where you can try out the Audible Premium Plus subscription and cancel it before it automatically renews next month. They have also recently launched a new premium membership offer where you can get Audible Premium Plus free for 3 months.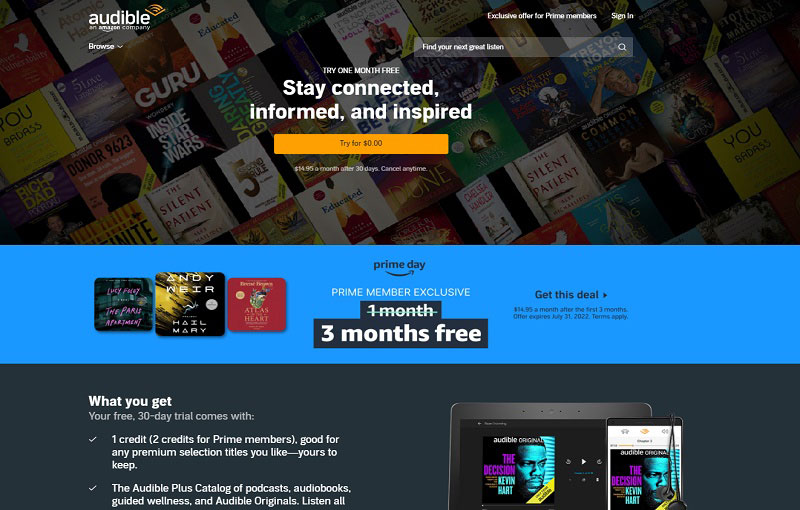 Another channel is completely free. There are all kinds of videos on YouTube, some bloggers who like dubbing make their own audiobooks and upload them to YouTube. Just type "Harry Potter Audiobooks" in the search box, and you will get so many results. Don't know how to choose? The easiest way is to choose the video with the highest views.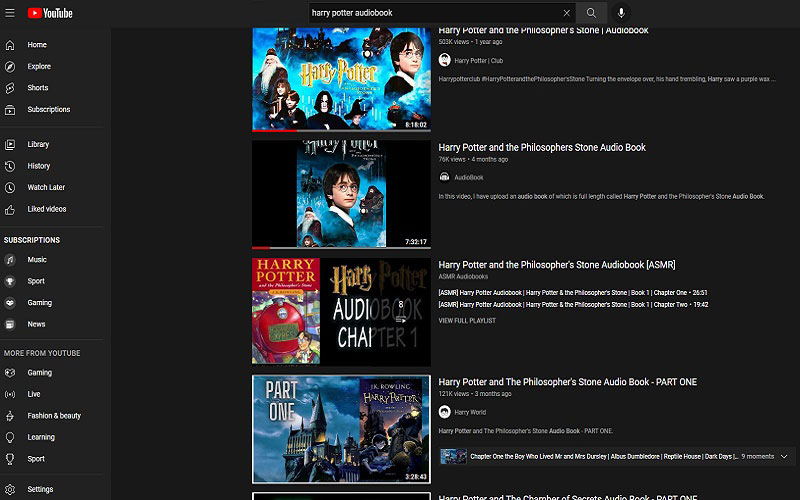 ---
In fact, if you are an Audible subscriber and have purchased the audiobooks you want to download, it is very easy to download them directly from Audible to either PC or Mac. One problem, however, is that audiobooks downloaded from Audible are in the DRM-protected AA or AAX format. If you want to transfer them to another device that you can't authorize to play after downloading, that won't work. So for those who listen to audiobooks via the previous two channels, there is a better way.
Any Audible Converter is an all-new, all-in-one yet easy-to-use audiobooks converter that allows users to convert the AA, and AAX audiobooks from Audible/Audible Plus to versatile output formats like M4A/M4B/MP3 so that you can listen to audiobooks on other devices. You don't need to download the audiobooks in advance as the software will download and convert them directly, as long as you log in to your Audible account from the login portal.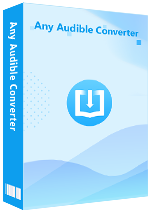 Features of Any Audible Converter:
Download audiobooks and podcasts from Audible/Audible Plus.

Convert Audible audiobooks and podcasts to M4A, M4B, and MP3.

Support splitting audiobooks by length, chapters, or segments.

Keep chapters and ID3 tags after converting audiobooks and podcasts.

Enjoy free upgrades and technical support services.
Download Win
Download Mac
Download Audible Harry Potter Audiobooks with Any Audible Converter
Step 1

Run Any Audible Converter

Launch the software, and you will see a very simple interface like this.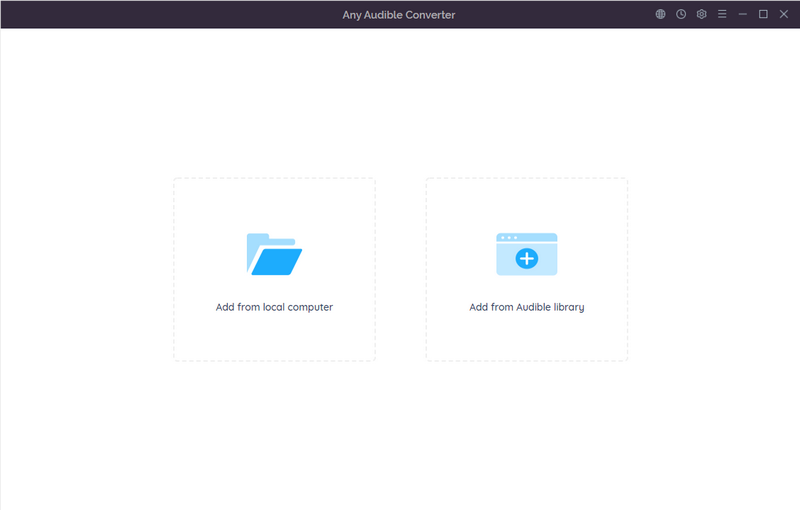 Step 2

Select the Output Format

Click the setting gear in the upper right corner. You can choose the output format, the output quality, and the output folder as you like.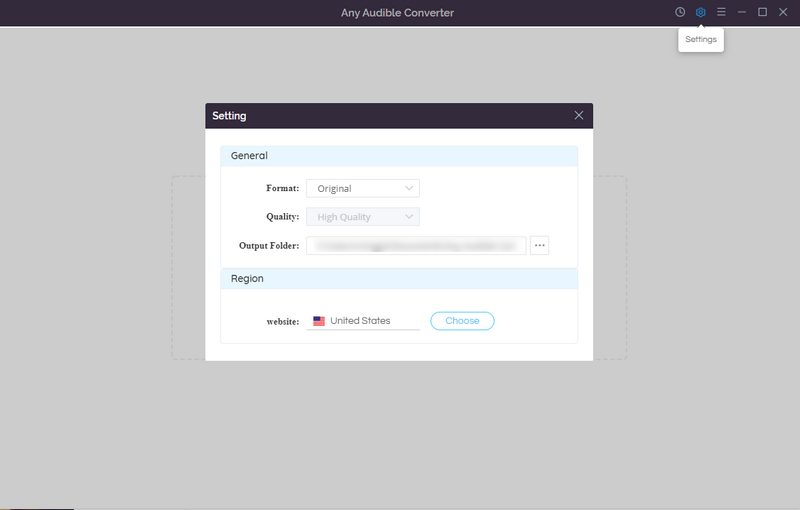 Step 3

Log in to Audible

Click on the "Add from Audible Library" button and log in to Audible.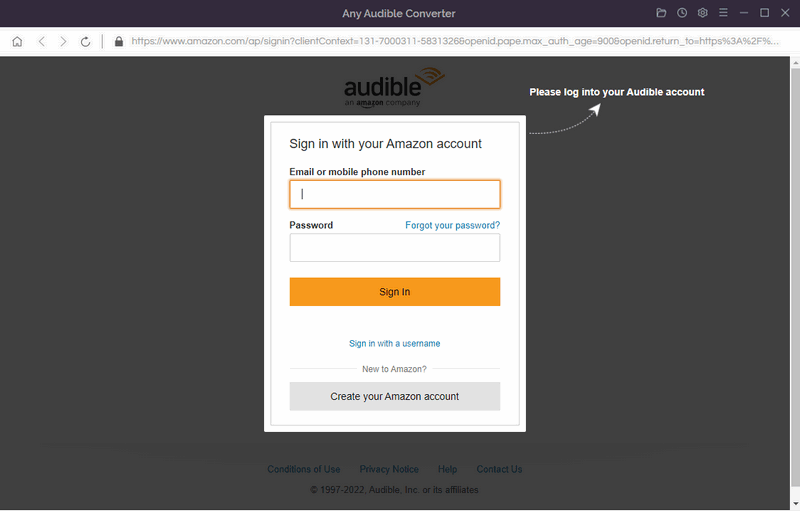 Step 4

Add Audiobooks

Type "Harry Potter" in the search box in the top right-hand corner, and you will see a number of different versions. Please select the one you want to download and listen to and click on the "add to list" button. It is highly recommended that you choose the version narrated by Stephen Fry.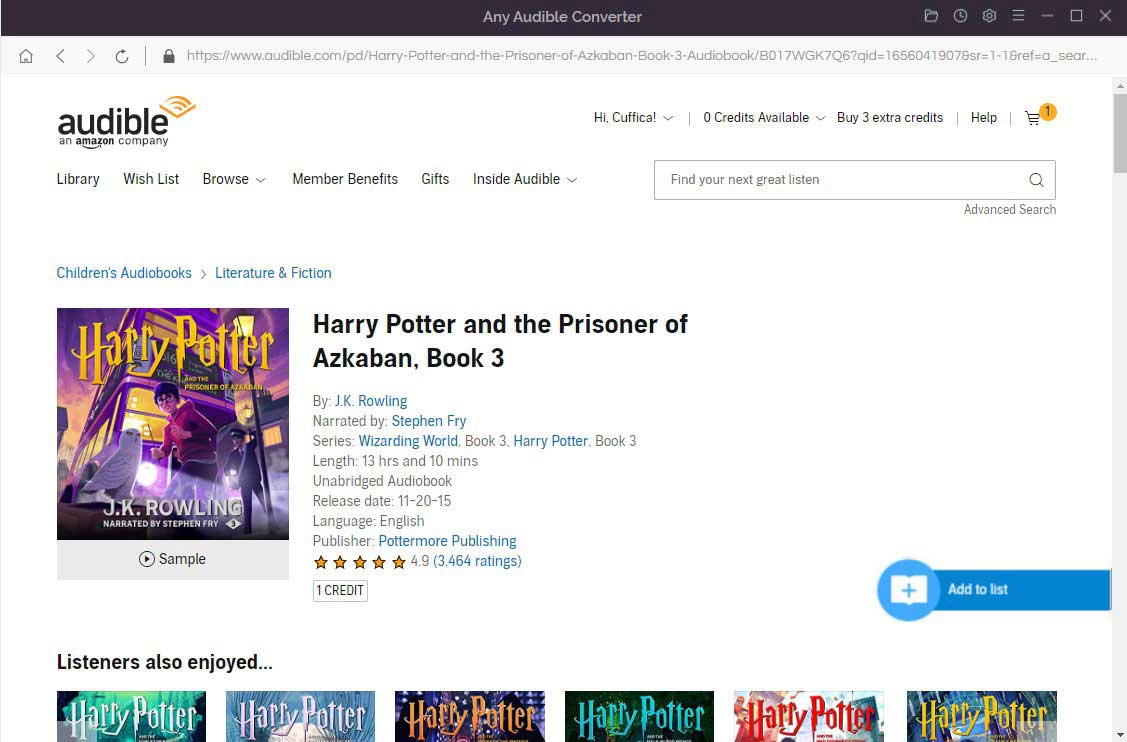 Step 5

Start Conversion

Type the "Convert" button to start the conversion. You are allowed to check the record of converted files after the conversion by clicking the "History" button.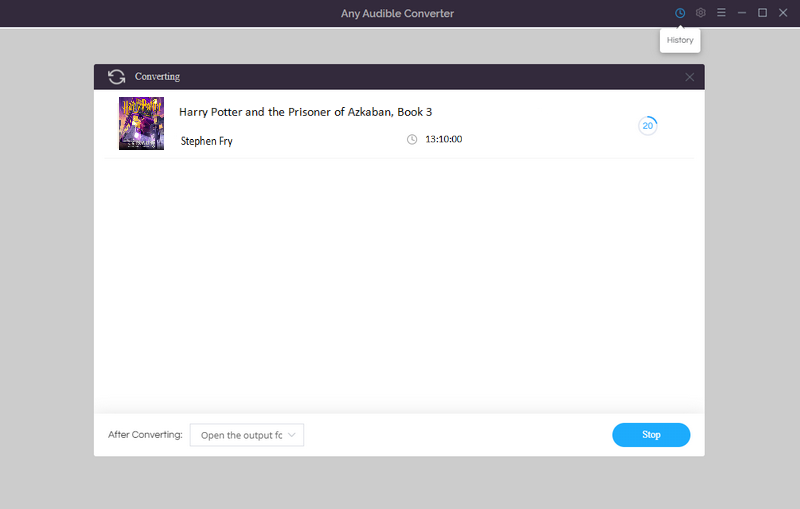 ---
YouTube does not allow videos to be downloaded directly from its website, you need to use third-party software to download videos. Any Video Converter Free is highly recommended. It is designed with no limitations and zero costs. It lets you effortlessly convert any video files to any format for FREE! And of course, downloading videos from YouTube is completely free!
Download Harry Potter Audiobooks from YouTube with Any Video Converter
Step 1

Run the Program

Launch Any Video Converter and you will see the interface like this.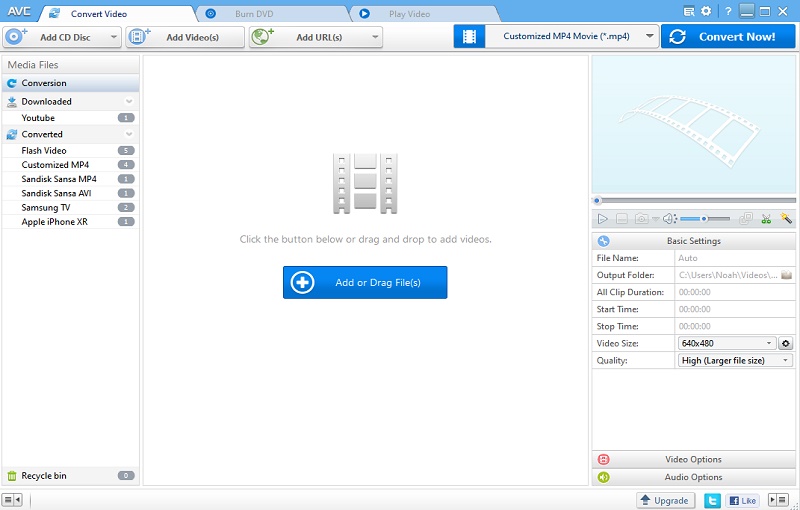 Step 2

Add URL

Click on the "Add URL(s)" button, then click on the green plus button to add a new video URL to the list. Copy the link to the video you need to download and paste it here.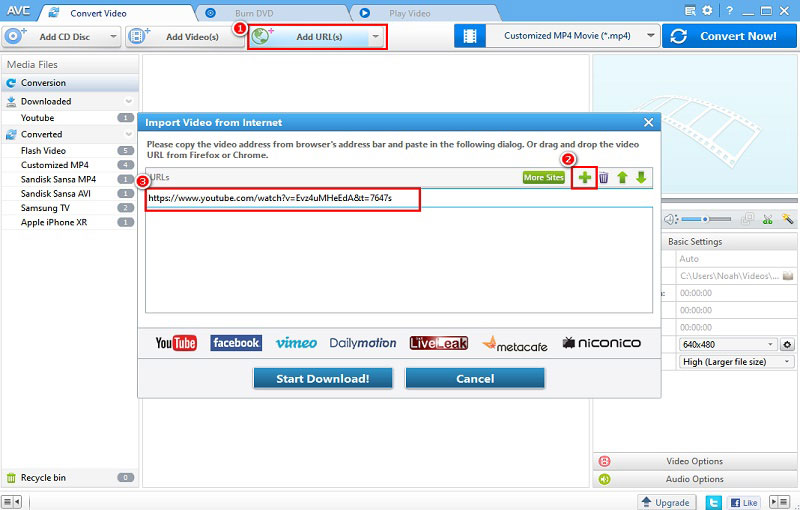 If you only want to download the audio, please click on the drop down menu circled in the red box below and select "Download Music Files". After the download is complete, you can convert your audio files into other formats according to your needs.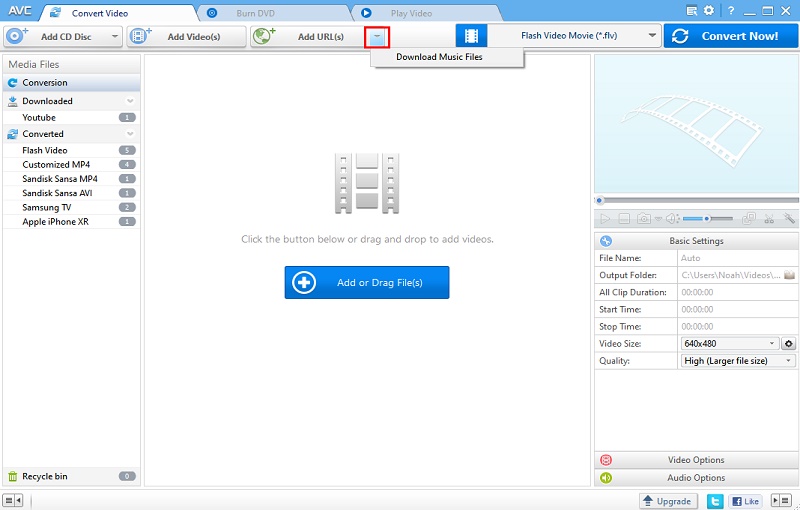 Step 4

Download Videos

Click on "Start Download" to start the progress. After downloading is completed, you can enjoy your Harry Potter audiobooks freely.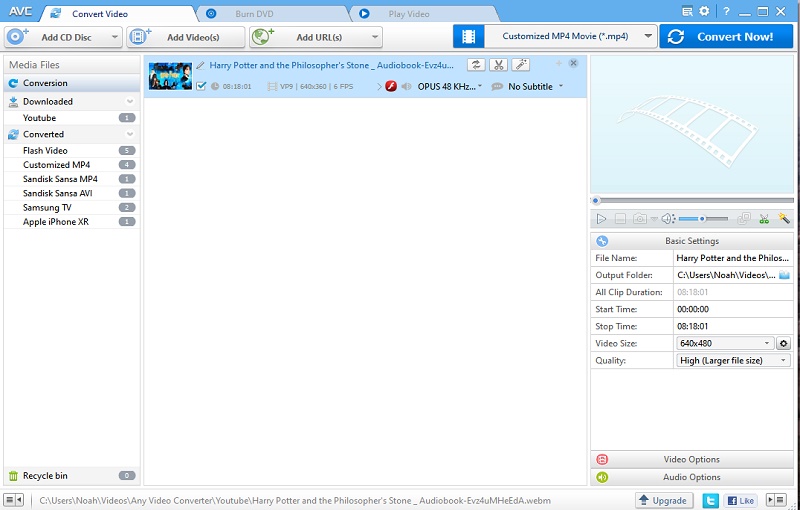 The advantage of listening on a professional audiobook website is that it is performed by a professional dubbing staff and recorded with professional equipment, so the effect and experience will be better. The downside is that the monthly subscription fee is expensive. Audiobooks from YouTube are free, while the performance may not be as good as the former. No matter which channel you listen to, the two methods described in the article can meet your demand. For Any Audible Converter, it can help you convert audiobooks to a more compatible format, even if you listen through other audiobook sites. And Any Video Converter supports downloading videos from not only YouTube but also Vimeo, Facebook, etc. So just pick one and try it by yourself.
You may also like? Check out:
Follw this post to see how to transfer Audible audiobooks to iTunes in detail.
This article introduces three methods to Play Audible Audiobooks on Sonos.