How to Play Audible on Garmin Watch
Garmin is a GPS (Global Positioning System) manufacturer founded in 1989 in the United States, specializing in aircraft, ships, cars and other navigation systems. The brand now has applied this technology to watches, becoming a good partner for outdoor sports enthusiasts in all fields. In addition to basic functions such as calorie burning and optical heart rate sensor, there is a technology that improves running monitoring by connecting with mobile phones. As sports enthusiasts, have you ever considered listening to Audible audiobooks while you work out to make it more fun? This article shows you an excellent way to convert Audible audiobooks to MP3 format so that you can transfer audiobooks to Garmin Watch and listen to them!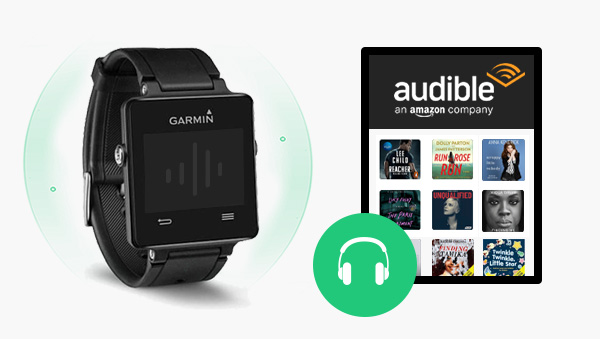 ---
For Garmin users, you must know that it does not support Audible app, which means you cannot play Audible audiobooks directly on it. But you can convert Audible books to other format, such as MP3, M4A or M4B on PC with the help of Any Audible Converter, and then transfer Audible books from PC to your smartphone. Finally, connecting your phone to Garmin Watch, and you can play Audible on Garmin Watch without the limitation of AA/AAX format.
Any Audible Converter is an excellent software that helps users convert Audible Premium Plus/Audible Plus AA/AAX audiobooks and podcasts to M4A/M4B/MP3 without efforts. It also allows users to download converted audio files directly to the computer so that users could enjoy listening to Audible audiobooks wherever they go on their MP3 players. With converted audio files downloaded on other devices, you can even listen to Audible audiobooks without an Internet connection.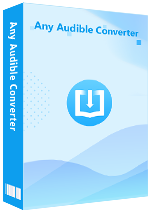 Features of Any Audible Converter:
Download audiobooks and podcasts from Audible/Audible Plus.

Convert Audible audiobooks and podcasts to M4A, M4B, and MP3.

Support splitting audiobooks by length, chapters, or segments.

Keep chapters and ID3 tags after converting audiobooks and podcasts.

Convert Audible audiobooks 100X faster than the average level.
Download Win
Download Mac
Here are steps to download Audible books to PC:
Step 1

Launch Any Audible Converter

Launch Any Audible Converter on your computer. You can convert audiobooks from the local files or Audible library.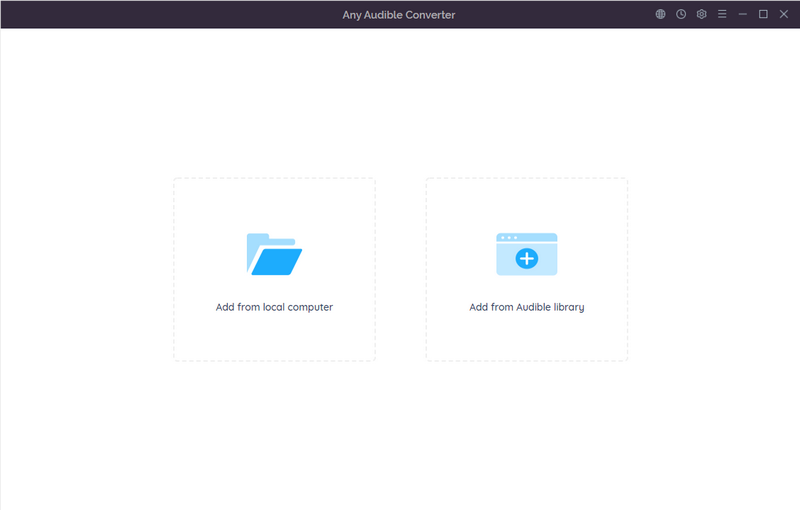 Step 2

Customize Settings

Click the setting button in the upper right corner. You can change the conversion settings including the output format, output quality, output path and regions of the website.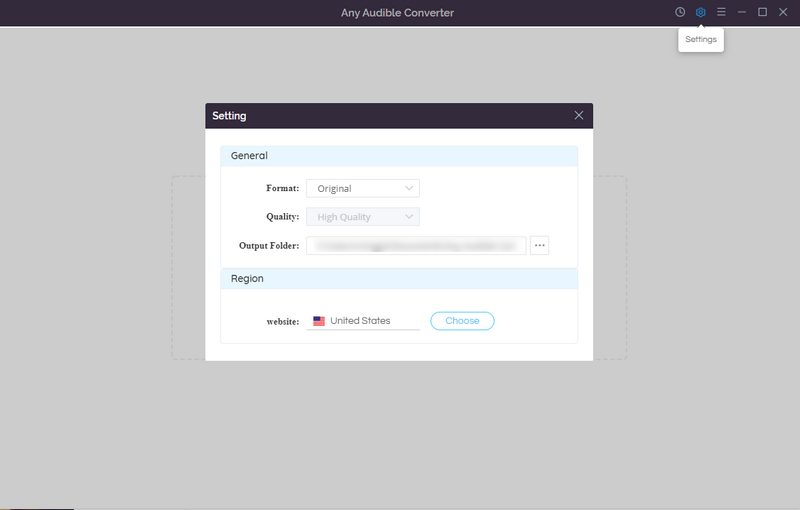 Step 3

Sign in your Audible

Click the "Add from Audible library" button and sign in.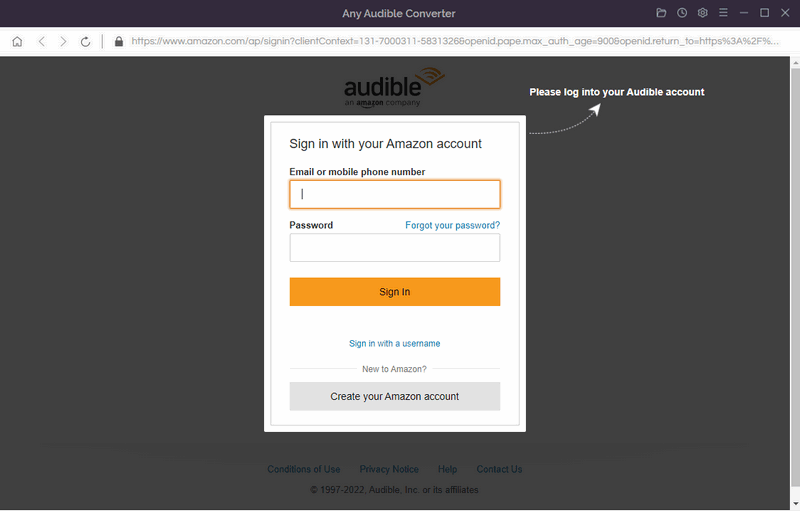 Step 4

Search an Audiobook and Add to List

Search an audiobook in the Plus catalog and click it. Then click "Add to list".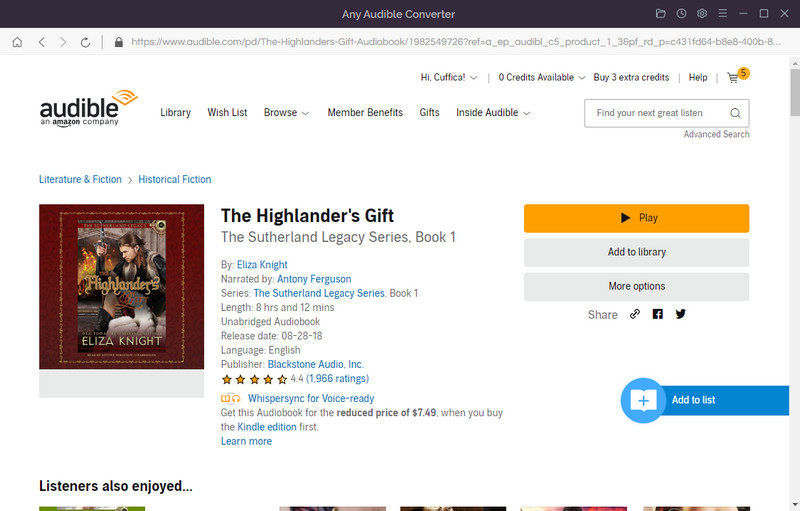 Step 5

Start Converting

Click on the "Convert" button to start converting the audiobook to the output format you choose. After the conversion is finished, if you have chosen "Open the output folder" after converting, the folder will pop up, and you can see the result in it. You can also click the "History" button to find the well-converted files from the local drive.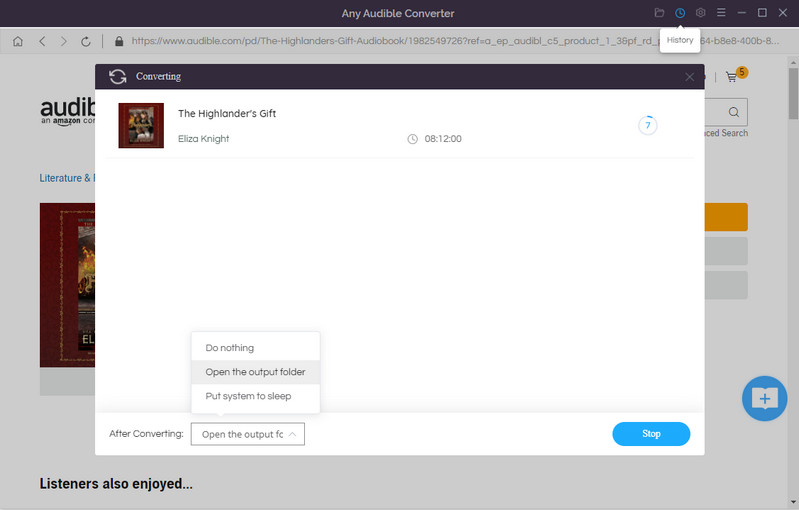 Now you have downloaded Audible audiobooks to your computer. You can transfer converted audiobooks to your phone and then use bluetooth to connect your phone to Garmin Watch so that you can play audiobooks on it.
---
Here introduces a helpful method, Syncios Mobile Manager, to transfer Audible books from PC to your phone:
Syncios Mobile Manager helps you selectively backup and restore data, manage music files on iOS/Android devices, edit song details and deduplicate. You can also preview and export SMS, Call History & Contacts to readable format on computer. Besides, it provides many handy tools: One-Click Backup/Restore, HEIC Converter, Photo Compression, Ringtone Maker, Audio Converter and Video Converter.
Step 1

Launch Syncios Tookit and Click Mobile Manager

Download Syncios Toolkit to PC. Then launch it and choose "Mobile Manager".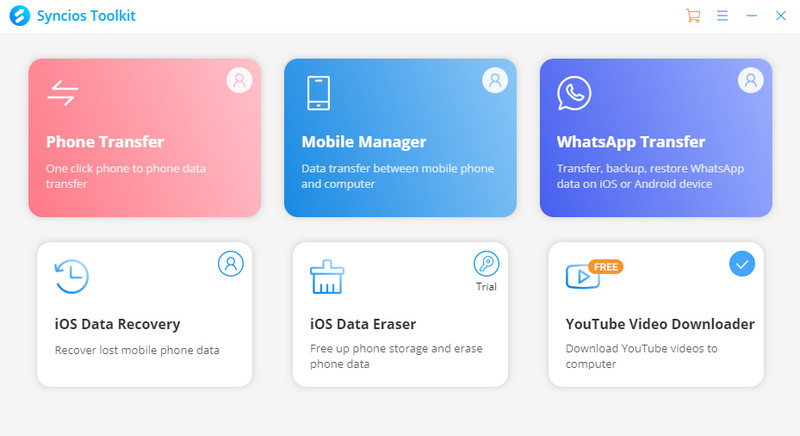 Step 2

Click "Books"

Choose "Music" bar and click "Audiobooks". Then click "Add" to choose audiobooks you want to transfer.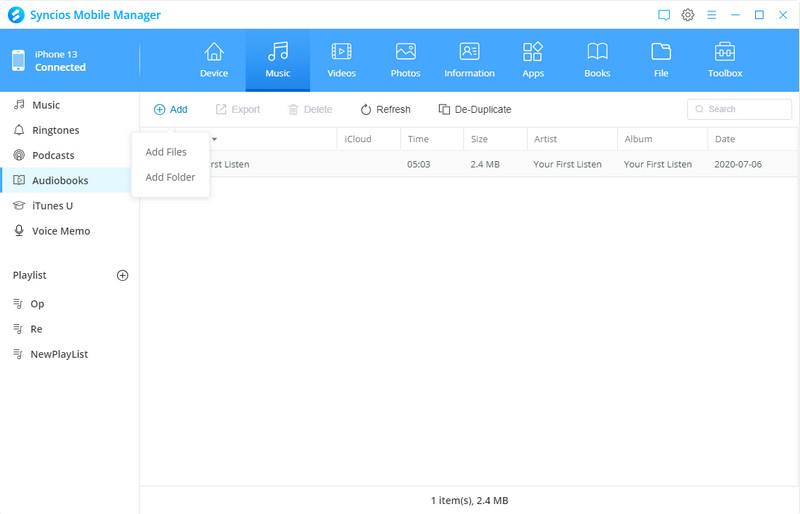 Step 3

Finish Transferring

When trasferring is complete, the interface displays "Adding Music is complete".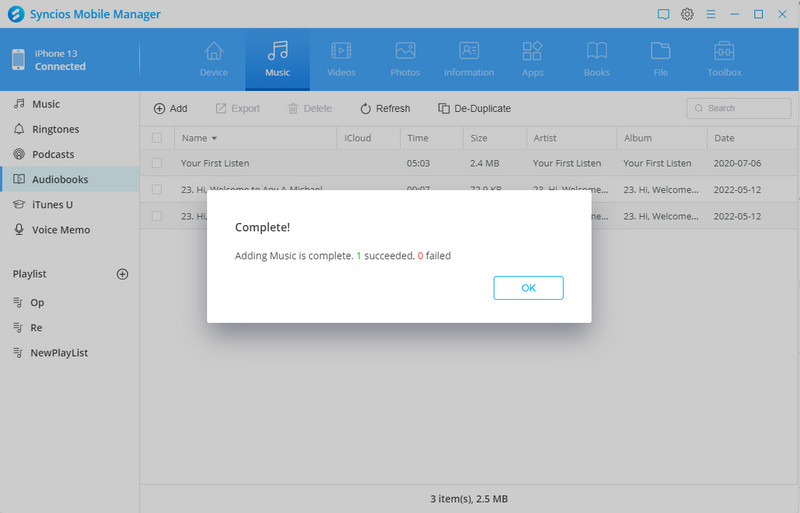 After transferring finishes, please check your phone to ensure that the audiobooks have been in it. Then you can connect your phone to Garmin Watch and play Audible on it.
---
Method 1 Here provides a way to play Audible books via bluetooth connection to Garmin Watch:
1. First of all, you need to download and open the "Garmin Connect" app on your mobile phone and log in. New users can choose "Create a New Account".
2. Then take out the Garmin watch, hold down the "Start" button in the upper right corner to start the device, and select "Corresponding Language". After selecting Language, the watch will display "Wait for Device to Be Added".
3. At this time, turn on the bluetooth function of the mobile phone, and then the Bluetooth pairing request of the watch will appear on the mobile phone, and the "Pairing Password" will appear in the watch at the same time. You can pair your watch with your phone by typing in a pair code.
4. Then open the "Garmin Connect" app, select the corresponding watch, and you can pair the watch to use. Tap the "Gadget" to install apps with different functions.
Method 2 If you are Forerunner 245 users, you can load converted Audible books to a Forerunner 245 Music device from your computer directly:
1. Connect the device to PC using the included USB cable.
2. On your computer, open the "Garmin Express" application, select your device, and select MP3 audiobooks.
3. Select the checkboxes for the audio files, and select "Send to Device".
4. If necessary, in the Forerunner 245 Music list, select a category, select the checkboxes, and select "Remove From Device" to remove audio files.
---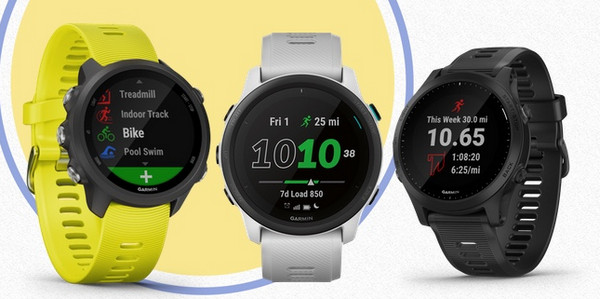 Although there are several series of Garmin Watch based on the main functions, the details of the functions carried by different models will be slightly different. The following will introduce a variety of exclusive rich functions.
① Satellite type: a necessary function for obtaining position information.
If the main purpose of wearing is for navigation, it is necessary to pay attention to the type of satellite supported by the navigation system; This function is especially important for sports such as mountaineering or golf, where local information is needed. In addition to GPS navigation, the watches also support satellite models such as QZSS, GLONASS and Galileo. Although GPS receivers are prone to errors due to factors such as weather and building shelter, they can be paired with other satellite positioning systems to improve navigation accuracy.
② Optical heart rate sensor: monitors heartbeat.
If you want to measure the heart rate during normal and exercise, it is recommended to buy a machine equipped with optical heart rate monitoring. In this way, we can not only confirm our health status, but also improve our exercise style and improve the training effect. The idea is to measure heart rate by touching the back of the wrist and shining a green beam of light on hemoglobin in the blood. In addition, there are also special functions such as automatic switching between monitoring heartbeat in motion and at rest, as well as filtering out noise, to greatly improve the accuracy of data results.
③ Running dynamic sensing: Recommended for runners.
Many runners who want to improve their running posture and efficiency will choose to wear Garmin, because the brand has launched watches with built-in running dynamic sensing function; The function calculates touchdown time, balance, stride length, movement parameters and other indicators, and clearly marks them with data and colors. As long as you can use the built-in sensing function of the watch, you can feel comfortable running without a trainer alone.
④ Waterproof function: suitable for swimming and water sports.
If you're looking for a smart watch for swimming or diving, check the water resistance level and the water depth the watch can withstand. According to the waterproof grade definition of Garmin, Vivo series marked as 5ATM and able to dive into 50m water depth can be selected when swimming. For water activities such as surfing, you can use Instict and fenix at more than 10ATM. DescentMK series is recommended if you want to wear it while snorkeling.
⑤ With music, mobile payment and other functions.
In addition to recording and motion-related functions, some Garmin watches also have built-in music playback and mobile payment functions. While there aren't many playable models available, the built-in watch can store up to 500 songs, making it easy to enjoy music anytime, anywhere, just by using a Bluetooth headset.
You may also like? Check out:
Recommend five best free Audible audiobooks and teach you how to save them forever.
Introduces an excellent Audible to MP3 converter converting Audible books directly online.