How to Convert Audible Audiobooks to MP3 Freely
"I want to download audiobooks from Audible, but I found that the downloaded files are all in AA/AAX format, which is impossible to play both on my phone and computer. Is there a way to convert the Convert Audible Audiobooks to MP3 format without compromising their quality?"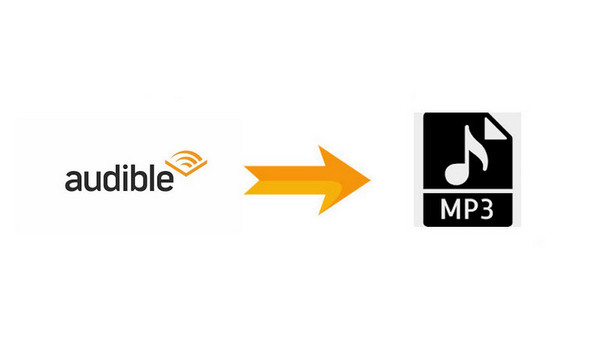 ---
Audiobooks are a derivative of traditional books. They appeared with the development of acousto-magnetic technology, using magnets as a carrier and having a playback function.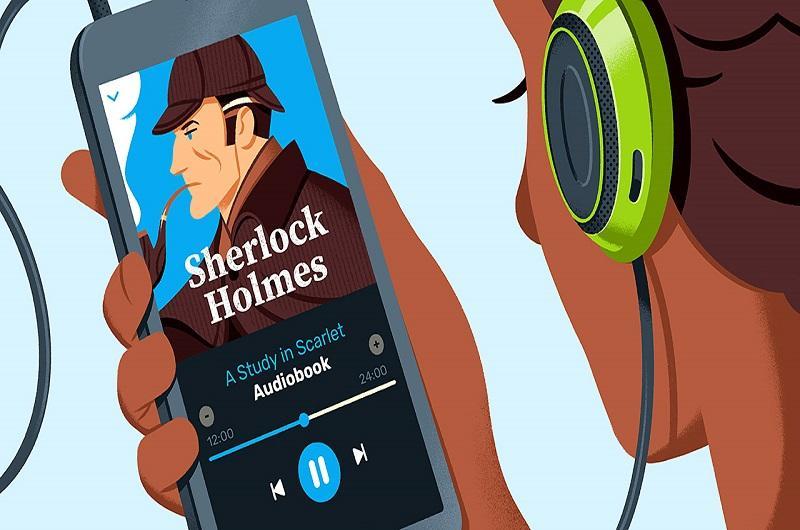 As early as 1931, the U.S. Congress established a talking-book program to help blind people who could not read traditional books. In 1932 The American Foundation for the Blind (AFB) published the first talking book, and two years later the world's first audiobook was born in the United States. As they provide free audiobooks to the blind, the reading community is gradually expanding and audiobooks are operating more widely.
By the 1980s, with the popularity of portable tape recorders, tapes became the primary carrier of audiobooks. In the mid-1980s, with the development of Internet broadband technology, new compressed audio formats and portable media players began to appear, which greatly increased the popularity of audiobooks.The era of online audiobook publishing also has arrived.
---
In the past, audiobooks were mainly published by audiobook publishers or The American Foundation for the Blind (AFB). But nowadays many radio and Internet radio stations have become audiobook producers. More and more companies have begun to pay attention to this market. As a result, many online audiobook stores have emerged.
Audible is a world-renowned large-scale genuine audiobook publishing and distribution website, currently under Amazon. It is also the most popular online store for audiobooks. In audible you can find and listen any audiobooks you want, such as best-selling novels, new albums, audio versions of magazines and newspapers, etc. Although Audible has many types of audio and supports downloading after you purchased it. But it also has many limitations.
Audible provides a subscription service. After subscribing, you can listen to your favorite audiobooks on the platform. Most of the books are free, but some of them still need to be purchased by yourself. Purchased books are available for download. However, the audiobooks in Audible Plus cannot be downloaded from the web, and can only be streamed online. If you want to download audiobooks in Audible Plus, you need to download its official APP on your mobile device and then download. This also means that many audiobooks cannot be downloaded to a computer for offline listening, even though users have subscribed to Audible Plus.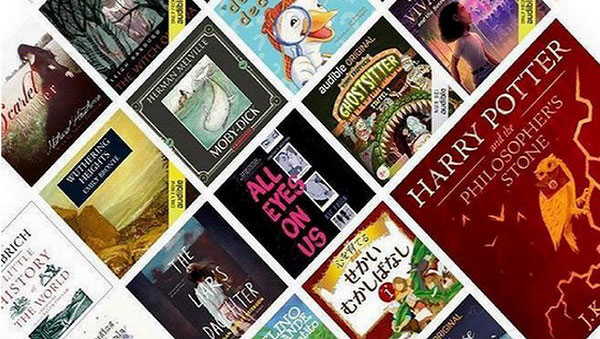 Other than that, though you paid for an audiobook and downloaded it, you will find that offline files cannot be played in the media player that comes with your computer or mobile phone after downloading. Because most audiobooks are digital rights management (DRM) protected, they are encoded with AA or AAX format, which is also a proprietary audio format developed by Audible to limit the copying of downloaded audiobooks to Offline playback from unauthorized devices. But there are very few media players that support AAX/AA file playback, including iTunes, Microsoft Zune, Amazon Kindle, iPod and Creative Zen. This means that many people cannot listen to the downloaded audiobook files anytime, anywhere, which also brings a lot of inconveniences.
Since the AA/AAX format is very limited, it needs to be converted if you want to play it on more devices. At present, MP3 format seems to be a good choice. MP3 is a popular digital audio encoding and lossy compression format. It can be played on most devices. It has strong compatibility, and the MP3 format occupies a small space, so it is an ideal format for saving audio files.
---
There is actually more than one way to convert Audible audiobooks to MP3. You can convert Audible audiobooks to MP3 through iTunes. In this process, you need to use a computer and a blank CD. And then open iTunes, create a new playlist and add the AAX/AA file of the audiobook to it. Next insert the blank CD into the PC drive and select burn. After the burning is completed, take out the CD and insert it again and open iTunes, select import and set the import format to MP3 encoder. This process is very troublesome. So is there any way to achieve Convert Audible Audiobooks to MP3 effortlessly?
If you are searching for an easy to use conversion tool, Any Audible Converter is definitely an excellent software.
Any Audible Converter is the all-new, all-in-one Audible audiobooks converter that helps you to convert AA/AAX audiobooks from Audible/Audible Plus to MP3 format with no effort. Unlike other common audiobook converters in the software market, Any Audible Converter not only supports converting audible audiobooks to MP3 format, but it also supports M4A/M4B format. Offers a variety of formats to choose from. Besides, you can split audio files by length, chapters or segments. Just need a few minutes and you can enjoy the converted audiobooks anytime, anywhere. Downloads have no expiration date. Never lose audio.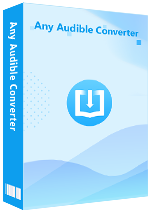 Features of Any Audible Converter:
Download audiobooks and podcasts from Audible/Audible Plus.

Convert Audible audiobooks and podcasts to M4A, M4B, and MP3.

Support splitting audiobooks by length, chapters, or segments.

Keep chapters and ID3 tags after converting audiobooks and podcasts.

Convert Audible audiobooks 60X faster than the average level.
Download Win
Download Mac
Can't wait to search in Audible to convert audiobooks to MP3 format for you so that you can listen to anytime? Then follow the steps below and try it!
Step 1

Download and Launch the Program

Download and lunch the Audible audiobooks converter software, you will see its clear main interface.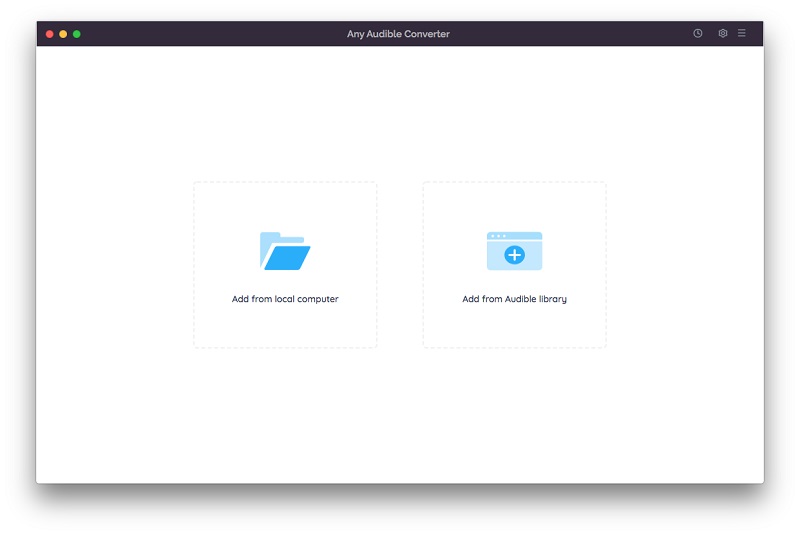 Step 2

Customize Settings

Click the setting button on the top-right corner to modify the conversion settings including the output format, output quality, output path and regions. You can select "MP3" as the output format here.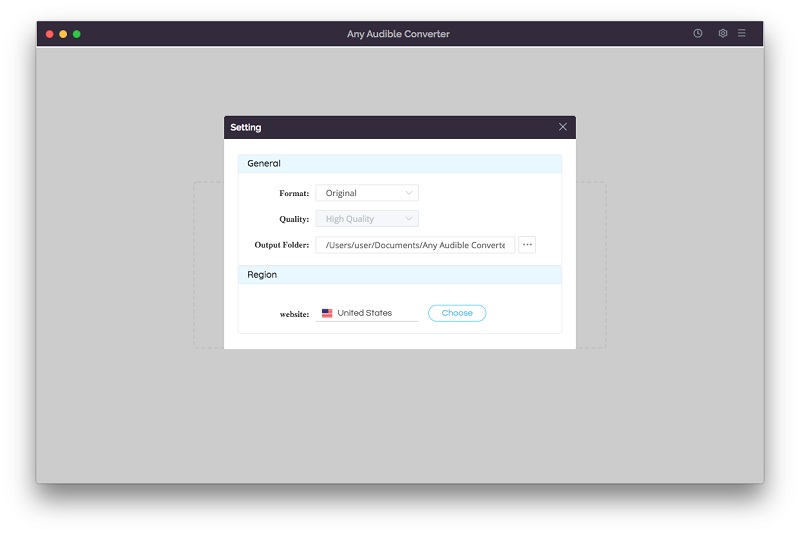 Step 3

Add Audible Audiobooks

Click the "Add from local computer" or "Add from Audible library" button to add audiobooks/podcasts to the program. When you add from the Audible library you will see an "Add to list" blue icon in the lower right corner, just click to add the audiobook.

Note: If you want to convert several audiobooks at once, you can save them to list and convert them in batch.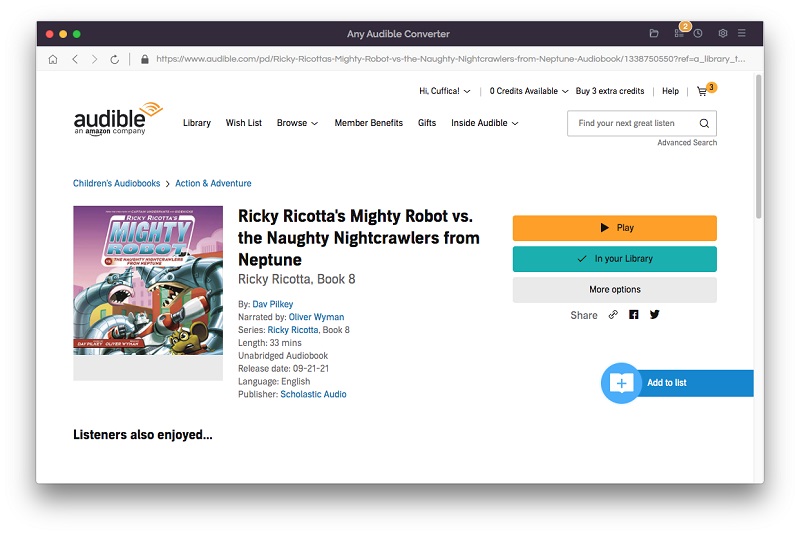 Step 4

Advanced Settings

After adding audiobooks to the program, you can see that there will be an edit button next to each book, click to split audio files by length, chapters or segments.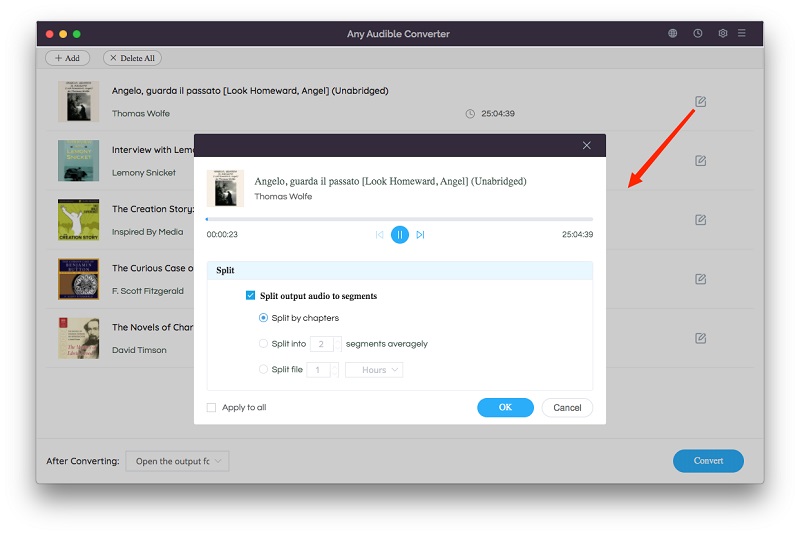 Step 5

Start Converting

Click on the "Convert" button to start converting the audiobooks to the MP3 format. After the conversion is completed, if you have choosen "Open the output folder", the folder will pop up and you can see the result in it. You can also click the "History" button to find the well-converted files from the local drive.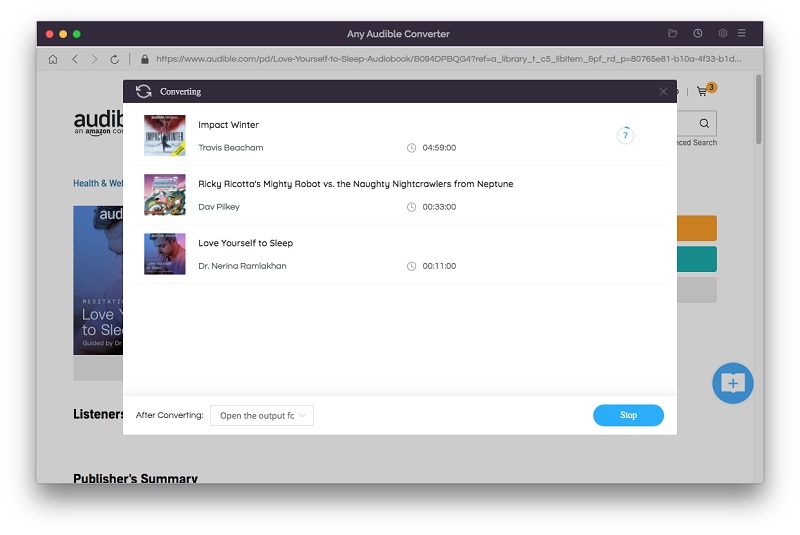 ---
Conclusion
Any Audible Converter is a good assistant to convert Audible audiobooks perfectly. The conversion process won't take a long time, and you don't have to worry about the quality of the converted audio. There are also multiple output formats for you to choose from. It can convert Audible audiobooks to MP3 in just a few simple steps. After converting the audiobooks, you can store the audiobooks on various devices for unlimited playback.
Such an easy-to-use Audible converter, just have a try and it will bring you a different and convenient experience.
Video Tutorial: How to Convert Audible Audiobooks to MP3
You may also like? Check out: