How to keep Audible Audiobooks If You Cancel Audible Membership
"If I cancel my audible, do I still keep my books and credits? If they can be saved, how long are they valid? Is there any other way to help me save and listen to Audible audiobooks forever after canceling subscription?"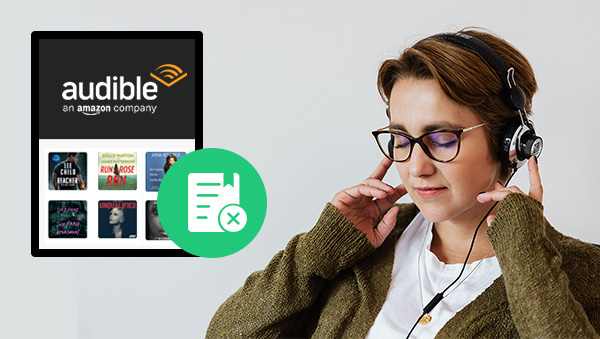 ---
Before answering above questions, let's take a look at how Audible works.
Audible, as an audiobook sales platform under Amazon, is also the world's largest online audiobook store. It mainly provides subscription services. Each new user will have a 30-day free usage period after registering for Audible. After the trial period ends, users can freely choose to subscribe to Audible Premium Plus or Audible Plus. The Audible catalog includes over 250,000 titles. The Audible Plus catalog includes over 10,000 audiobooks. In addition, users can also choose different membership plans according to their own situation.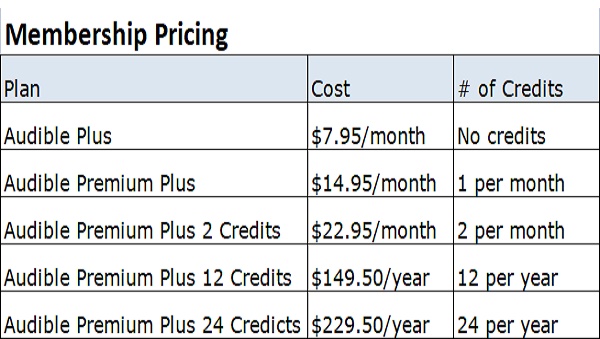 ---
There are a lot of audiobook resources in Audible, this is why most users choose Audible. But not everyone is satisfied with Audible. Some people want to cancel the subscription because of the price, and some people are dissatisfied with the variety of Audible Limit wants to unsubscribe. There are also people who want to unsubscribe simply because they are tired of listening to audiobooks. One thing people are concerned about at the same time is that if I cancel the subscription, can I still keep my books and credits?
In fact, the credits expire when you cancel the subscription, which means that after canceling the subscription, there is no way to redeem any audiobooks in Audible. But luckily, the audiobooks purchased or downloaded in Audible can still be listened to in Audible App or Audible-supported devices. But once the company loses its license to an audiobook content, they have the power to remove it from their servers even if you purchased it.
What's more, it should be noted that the subscription mechanism of Audible Plus is different from Audible. The audiobooks you listened to in Audible Plus are actually rented from it and cannot be downloaded locally. Therefore, once you unsubscribe from Audible Plus, all previously listened audiobooks will be recalled. So you can't keep these audiobooks anymore.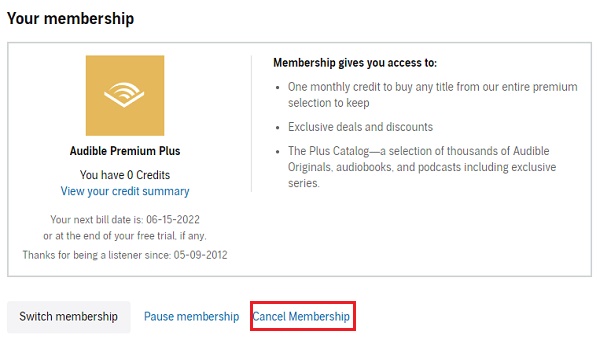 ---
But even if you can continue listening to audiobooks in Audible after canceling, it doesn't mean you actually own them. As mentioned earlier, you can continue to play Audible audiobooks in the Audible App or on Audible-supported devices. What if after a long time you want to listen to it but find that you have forgotten your password. Or we all know that Audible supported devices are very limited, and you happen to have no Audible-supported devices. How to solve this situation?
Don't worry, here's a great solution to help you actually own your Audible audiobooks without worrying that they will expire after you cancel your subscription.
All you need is Any Audible Converter. It is a brand new all-in-one Audible audiobook converter which can help you convert all audiobooks in Audible and Audible Plus to regular format such as MP3/M4A/M4B, to get rid of the limitation of Audible AA/AAX format. You can store the converted files anywhere without worrying about being deleted or not being able to play on multiple devices.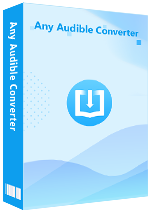 Features of Any Audible Converter:
Download audiobooks and podcasts from Audible/Audible Plus.

Convert Audible audiobooks and podcasts to M4A, M4B, and MP3.

Support splitting audiobooks by length, chapters, or segments.

Keep chapters and ID3 tags after converting audiobooks and podcasts.

Convert Audible audiobooks 100X faster than the average level.
Download Win
Download Mac
No iTunes account authorization or installation of any Audible app is required. The operation is very simple, and you can follow the guide below.
Step 1

Download and Launch the Program

Download and lunch the Any Audible Converter, you will see its clear main interface.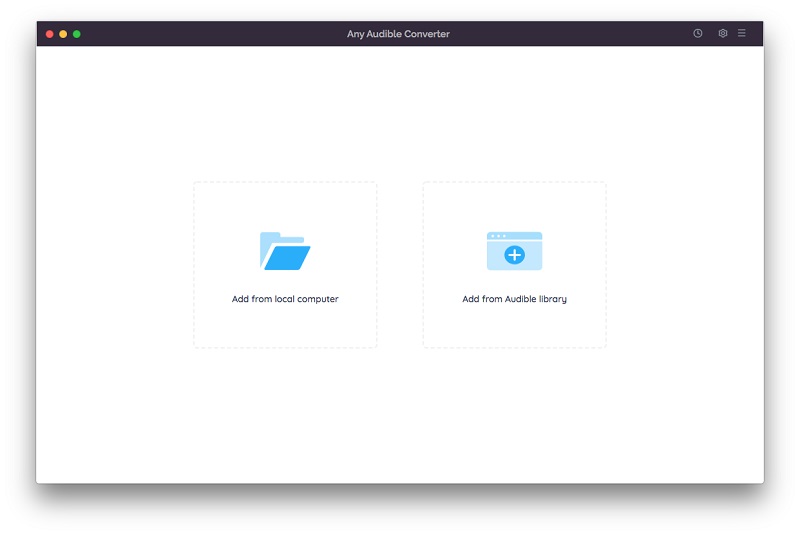 Step 2

Customize Settings

Click the setting button in the top-right corner to modify the conversion settings including the output format, output quality, output path and regions.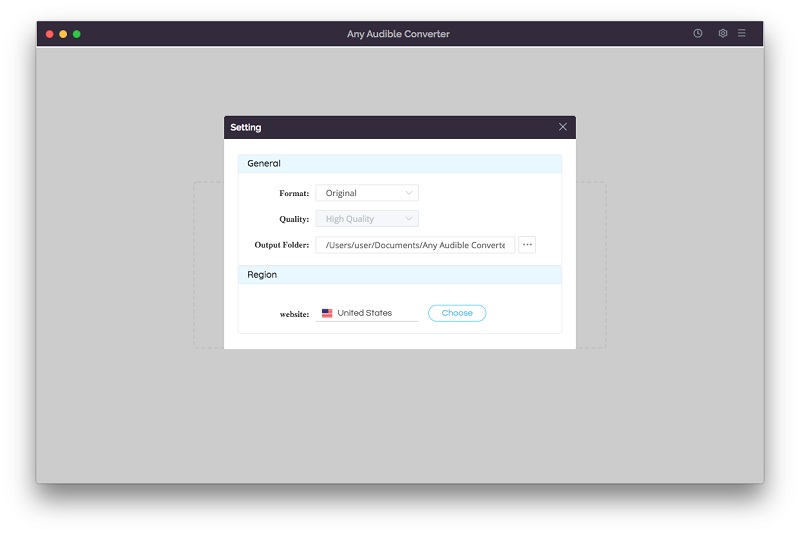 Step 3

Add Audible Audiobooks

Click the "Add from local computer" or "Add from Audible library" button to add audiobooks to the program.  When you add from the Audible library, you will see an "Add to list" blue icon in the lower right corner, just click it to add Audible audiobooks.

Note: If you want to convert several audiobooks at once, you can save them to list and convert them in batch.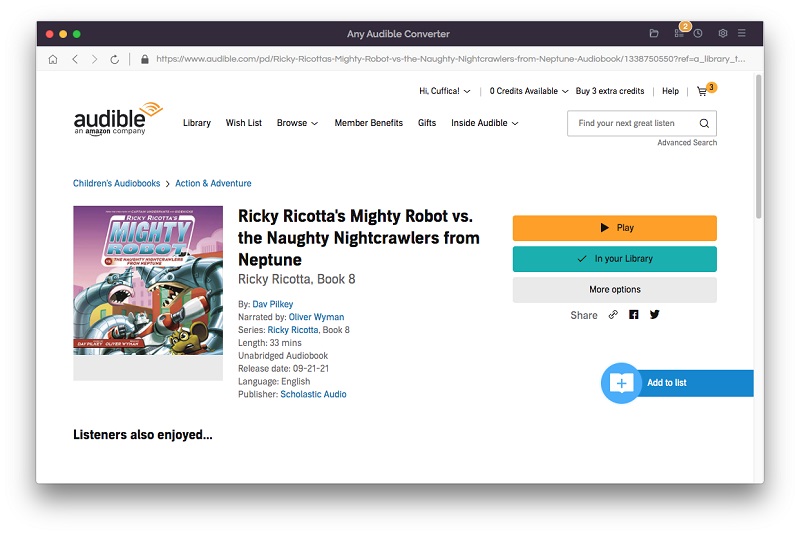 Step 4

Advanced Settings

After adding audiobooks to the program, there will be an edit button next to each book, click to split audio files by length, chapters or segments.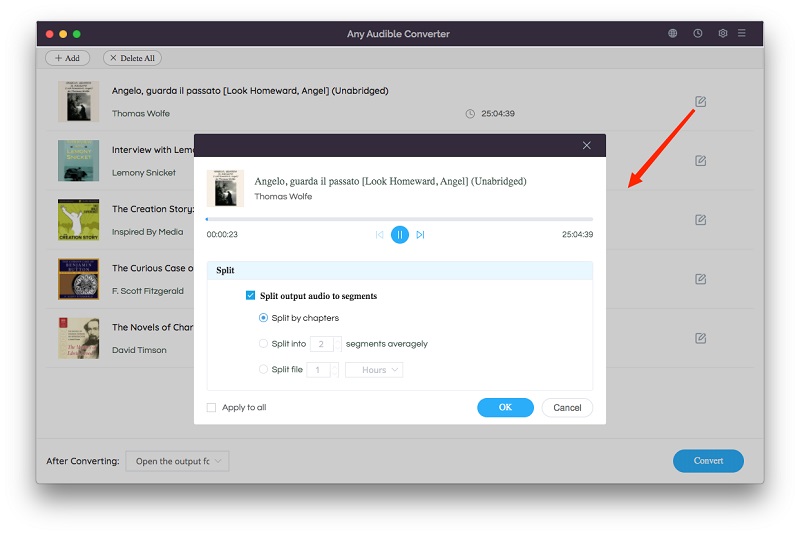 Step 5

Start Converting

Click on the "Convert" button to start converting the podcasts to the MP3 format. After the conversion is completed, if you have chosen "Open the output folder", the folder will pop up and you can see the result in it. You can also click the "History" button to find the well-converted files from the local drive.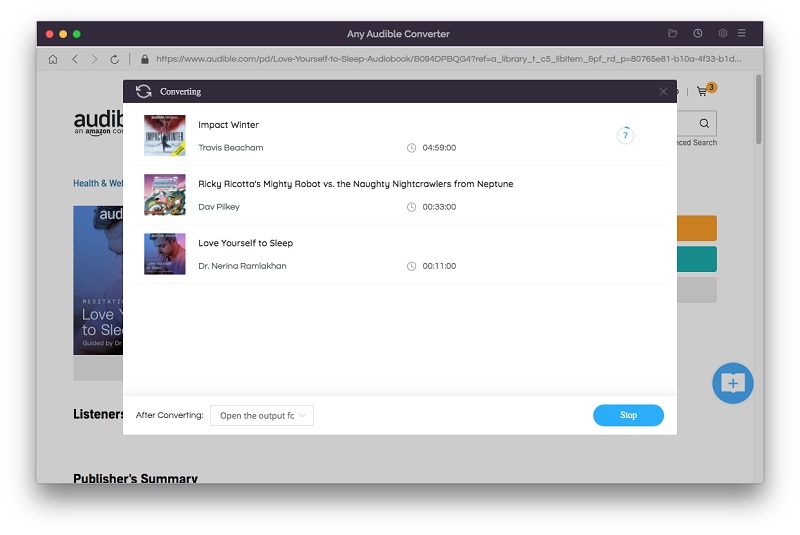 Conclusion
If I cancel my audible, do I still keep my books and credits? Through this article, I believe you should have found the answer. Come and use Any Audible Converter to convert your favorite audiobooks to other popular formats before canceling your subscription. Never worry about your audiobooks dying anymore, they're truly yours.
You may also like? Check out:
Explore two ways to play Audible audiobooks on SanDisk Sansa.